Kayak Prices - How Much Does A Kayak Cost?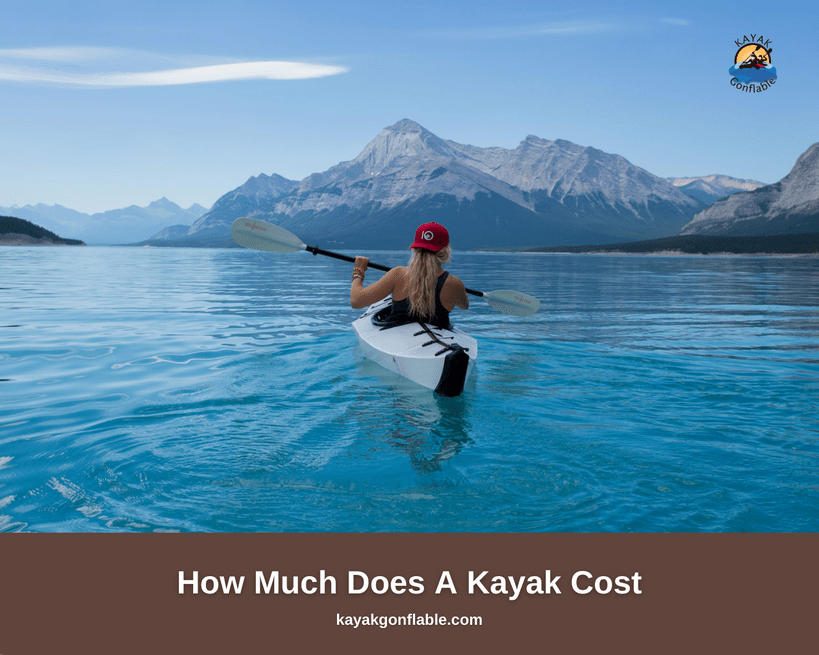 Add a header to begin generating the table of contents
How Much Does A Kayak Cost For Real?
Where we, most humans, derive pleasure from, and how we do, remains amazing to others. After a long, stressful day or week at work, we all need quality time to relax and enjoy the beauty of nature. 
One of the ways to feel alive again is by involving in activities that keep stress at bay. A major activity to consider is kayaking. It is a good way to get a sensational experience on the water, and like other sporting activities, comes with a lot of benefits.
What is more interesting is knowing that even many anglers and sports lovers now find kayaking as an interesting adventure worthy of spending a good time on. There's a major question, among others, to ask yourself when you're considering enjoying your day on water, kayaking. 
The question is, how much will it cost you to get a functional kayak? To get a working kayak, you'd need to work with a budget and a plan. 
Knowing how much the total package comes will give you an idea of how much you need to save, and what type and brand best suits your pocket.
The cost of acquiring a new kayak is, however, affected by some factors. These factors are determinants of the level of affordability of kayaks. Many kayakers believe that there's a direct relationship between the price tag on a kayak and its quality.
Interesting right? As interesting as it sounds, there are other important factors that determine whether you spend much or next-to-nothing. All these boils down to the type of construction and how impressive the features of the kayak are/
Material: The material of construction is a major price determinant. Devices made with composite materials often come at a higher price than others. And kayaks made from such are not exempted. Those made from materials like Roto-molded polyethylene are often found cheap. But if you're running tight on budget, getting inflatable kayaks can be the best option for you.

Weight: There are two basic designs of kayaks namely, lightweight and heavyweight. The latter often come cheaper than the former. Lightweight yaks are often more expensive than their heavyweight counterpart because they are made of composite materials like Carbon fiber or Kevlar
Tandems/Solo: The capacity of a kayak can determine how much it'd cost to purchase it. Yaks with more seats for extra occupants, and molded seats for a child, will cost more than a Solo-one that only has a single capacity. Tandems usually come with double of all necessary accessories and are always longer. This means that they will cost more if you're interested in getting them.
Gear and accessories specifications: The cost of kayaks featuring only primary necessities might come lower than those with much accessories and gears sophistications
Load and Storage Capacity:  High-end kayaks with large storage and load capacity cost more than their small counterparts. This is because the small-capacity kayaks only come with onboard features like tank well or bungee rigging whereas, those with high storage and load capacity possess sophisticated features like watertight hatches that provide easy access. 
Steering System: The inclusion of the steering system into kayaks creates an improvement in their tracking performance. If you're interested in purchasing a kayak that has skeg or rudder included with its reel, expect to pay a little extra in price.
Method of Propulsion: Another important feature to consider when buying a new kayak is the method of propulsion. Ordinarily, you'll find kayaks with one paddle at a cheaper price than those powered by a motor system or the pedal-drive-system.
Also, as important a factor as the rest is the kayak brand. The brand name is a major selling factor for many products including kayaks. Big kayak names are often associated with big price tags whereas smaller brands are often associated with cheaper price tags. 
In addition, the varied design features and function of different kayak types and brands also contribute as determining factors to the price of kayaks. For instance, a motor-powered kayak may come with a small load or storage capacity. 
Also, kayaks that come with skeg which are known to be accompanied by big prices may possess primary necessities associated with easy-on-budget kayaks. Furthermore, recreational kayaks, fishing kayaks, sea kayaks, and whitewater kayaks come with distinct designs, and specifications fitting the purpose for which they're designed. 
While kayaks designed primarily for beginners, like the inflatable ones, are the least sturdy and the least versatile, they come at the cheapest price, costing around $200.
However, if you're interested in a kayak that is sturdy yet lightweight, with more than enough load and storage capacity, and the ability to move through rough waters, your best choice would be the sea kayak. 
With all these features present in a sea kayak, you'll have a bigger budget to run with.  They are more expensive than the other aforementioned kayak types and cost about $1000 to $3000.
How Much Is A Kayak: Average Costs of Different Kayaks
| Kayak Type | Average Kayak price |
| --- | --- |
| Inflatable Kayak Cost | $80 - $1000 |
| Foldable Kayak Cost | $1700 - $2600 |
| Recreational Kayak Cost | $300 - $1100 |
| Kids Kayak Cost | $80 - $499 |
| Fishing Kayak Cost | $499 - $2000 |
| Touring Kayak Cost | $999 - $1999 |
| Whitewater Kayak Cost | $699 - $1399 |
| Tandem Kayak Cost | $499 - $2499 |
How Much Does Renting A Kayak Cost?
One interesting thing about astute kayakers is that they travel far and near, exploring interesting places and experiencing a unique expression of nature through their highly-fun hobby. 
Dragging additional kayak weight to your favorite kayaking spot may pose additional stress, it is therefore advisable to only show up at any center of your kayaking destinations and everything you need will be provided for you. 
Working out how much renting a kayak costs can seem difficult because prices vary as geographical locations change. Also, the kayak brand, size, and type you intend to rent can play a role in determining how high or low the price is. Our guide in this article, however, is brought to you to help you better understand how much renting a kayak costs.
Knowing how much it costs to rent a kayak also depends on some interesting factors one of them is the kayak type. For instance, renting an inflatable kayak is cheaper than renting a sea kayak.
The time for which you intend to make use of the kayak is yet another main factor. Rentals of any sort relate cost directly with time use, whether hourly, daily or weekly. This implies that if you go kayaking beyond the agreed renting period, you may be required to pay an additional price. 
The basic rental price for a single-person kayak per hour is between $20-$40 while for a day rental you may pay between $50 and $100 and the price for a week may be up to $250 or beyond.
The rental cost rate, however, for a double-person kayak will be more than that of a single person. Rental companies may have rate-reduction offers for a week or month-long rentals.
Your favorite geographical kayaking location is another main factor that affects the price of kayak rent. Popular kayaking places, where kayaking is in high demand, tend to have their rental prices higher than other places. 
But in less popular kayaking locations, the costs could be lower. Considering how location affects rent, it is therefore difficult to outrightly peg the price of renting a kayak.
It, therefore, goes without saying that before embarking on any kayaking adventure, you need to wisely carry out all necessary actions and preparations, including buying other essentials that you'd need for the trip such as wetsuits, life jackets, helmets, paddles, and splash decks.
You may also have to put a call through to the rental company in your favorite location to catch an idea of how much they rent different types of kayaks. This is the best method to be sure you're prepared for your trip.
How Much Does A Used Kayak Cost?
Lovers of water sports would most likely go after a used kayak because they couldn't afford the price of a new one. The average price of a used yak is influenced by a few factors, so one cannot outrightly say the fixed price to get one. 
It goes that you have to consider these factors in your budget. By fixing a price before considering these factors, you may end up not purchasing a kayak that best suits your water adventure needs.
Ideally, buying a functional used yak may mean that you pay between 50 and 70 percent of the normal retail price for more ones. Before seeking to buy, however, you have to know all the model types, features, and specifications you need. This action will help you to stay current on the market price until you have adequate money to buy.
Furthermore, you would have to consider the condition of the kayak you're paying money for. You have to take a close look at the age, damage, and other things. This would make you know whether or not the seller is being fair with the asking price.
Asking questions and doing thorough research allows you to avoid getting cheated. Ensure you ask questions about how the seller stored the kayak. Also, ask questions regarding any unseen defects, and the warranty. 
And if you're making an online purchase, ensure you ask for picture and video evidence. To feel safe about your purchase, you can ask for a visual test.
Lastly, if you feel nothing close to safety for the purchase you're about to make, you can easily walk away. There's no harm in doing that.
How Much Does A Kayak Above Ground Pool Cost?
There is lots of fun in having a private personal pool for yourself and your family. Owning a kayak pool provides you with a sense of privacy and security plus ultimate watersports and swimming enjoyments. 
While open-water kayaking is regarded to come with more fun and adventures, a private personal pool offers the safest option. But the important question to answer is "how much does it cost to purchase one?"
In general, having a ground pool on your property-whether commercial or residential-tend to increase its sales value. An above-ground kayak pool installation process is less expensive and requires less time to be built compared to an in-ground pool which is more complicated, expensive, and requires extra time to be built.
Moreso, the above-ground pool comes with fewer installation complexities that you can carry out by yourself. When planning to get an above-ground kayak pool, there are several considerations to make such as, the size of the pool, the price of the decking, price of installation, and lots more. 
Although, as mentioned earlier, you can choose to get all the necessary tools and set the pool up yourself to avoid extra installation charges. And the inclusion of the decking is optional, you may choose to consider it, or go for something else. 
On average, the cost of an above-ground pool can range between $4k to $12k, for a start. Many people like it because it's affordable, although the price works for structures without deckings alone.
In the world we live in now, having an above-ground kayak pool has become common in many residential and commercial structures. It is safe, cost-effective, quick to set up, and demands less manual labor to set up.
How Much Does A Hobie Kayak Cost?
Unlike any other recreational kayaks, Hobie kayaks are quite expensive and come with a very high quality which makes for their extra durability. Their kayaks are built with fascinating features and designs which make them offer higher advantages over other kayaks. 
From their humble beginning, Hobie doesn't make a regular generic kind of kayak, but if you want a watercraft that could last you a lifetime, Hobie should be your next stop. However, their kayaks don't come cheap. Their cheapest watercraft may cost about $1,299 (excluding tax and shipping) and even more.
Hobie kayaks are powered by Classic MirageDrive pedals technology, unlike other recreational kayaks that use paddles. This unique feature is not found on any other available kayak on the market. 
It takes away the stress of paddling, instead, a kayaker uses his/her feet to propel the kayak. With this technology, kayak anglers find fishing interesting and easier. Kayakers enjoy free-hand propulsion as they can capture their moment on the water by shooting nature photography.
Hobie kayak also features Kick-Up Fin technology and comes with sail kits that make cruising seamlessly through the water a smooth and efficient adventure.
How Much Does A Kayak Pool Cost?
Having a kayak pool within a property can be an incredible way of creating a relaxing atmosphere. With a kayak pool in your backyard, you will have the utmost hassle-free pool experience with a fun and relaxing destination for your family. 
However, there are varieties of choices to be made when planning to own a kayak pool. Regardless of your preference, above-ground or in-ground pool, the cost is usually one of the key components of your investment.
Basically, above-ground pools usually cost a fraction of in-ground pools from site preparation, installation, down to maintenance. On the low end, an above-ground pool could cost around $20,000 (deck, slide, heating system, and other accessories not included). 
While every standard kayak pool should feature decks and fences which of course would call for an additional cost, not every property owner would consider them in their backyard vacation investment; moreover, such features are not usually included in every installer.
In-ground pools on the other hand cost way more than any above-ground pool. Generally, they can take up to \$30k–\$70k due to the extra work and involvement that the preparation process required. In most cases, preparation may take as much as blasting certain areas to get rid of the excessive buried rock. 
A lot goes into the preparation, installation, and maintenance of an in-ground pool which makes the total cost run as much twice, if not more, than an above-ground pool.
How Much Does A New Kayak Cost?
When summer and spring come knocking on the door, people find a way to engage in one or two fun activities to revitalize and get refreshed. Kayaking tends to be one of the most popular fun activities during this time of the year. 
So to join that moving train, you can either own a kayak or rent one for yourself. Sadly, renting a kayak to cruise the waters can be fun for just a day or two while you can have endless fun all spring and summer when you own a kayak. 
Well, new kayaks do not come cheap and it is somewhat impossible to get a fixed price for kayaks as there are countless kayaks out there. Their prices will fluctuate depending on the type that you want, the purpose you expect it to serve, and a lot more.
The most reliable way to prevent your day from being ruined on the water is to get a brand new kayak. Buying a used kayak can be a great risk at times, but with a great new 'yak your day can never go wrong. 
This also balls down to how much you are willing to spend. You could get a low-quality plastic kayak from your local big-box retail for as low as $150, but you can as well ask yourself if it can offer the best paddling you so much love to experience and how long it will last? On the other hand, you may have to spend between $4,000-$6,000 to get a high-quality boat.
Inflatables are great watercraft that beginners can start with. They do not cost a fortune however, their price varies primarily with the complexity of the design and the toughness of the material from which they are made. The cost of inflatables ranges from \$100 to over \$1000. This is something you could consider for some temporary fun.
Touring kayaks and white water kayaks are quite expensive compared to a standard beginner kayak. The most pricey kayak you can ever buy is the touring kayak. White water kayaks may not be as expensive as touring kayaks but if you are looking for a boat that can withstand the rough waters more safely and can as well navigate the rapids then, this is your sure bet. They both cost over $1000, therefore plan to spend nearly a grand or more.
To Sum It Up
We cannot exactly say that there is a specific price for all kayak types. Nevertheless, the durability of the material they are made from, their capacity, their functions, features, and the likes give each kayak its price point. 
Kayaks built of more sturdy material, specially designed for rougher conditions will in no doubt be more expensive than kayaks made from plastics which can only strive in gently flowing water or ponds. The higher the kayak's quality, the higher the price too!