Add a header to begin generating the table of contents
Which Kayak Outfit Is Best?
Kayaking is one of the best ways to enjoy the outdoors, and experience the true beauty nature can be. If you're thinking about a watersports adventure alone or with your loved ones, then you can't be wrong choosing kayaking.
Kayaking can also be a great way to fish for as long as you want. There's no limit to the enjoyment you can have on the water, and whichever way you choose to enjoy- whether fishing or kayaking- we're strongly behind you.
It is important to ensure your safety in case there's an accident. And if any of the kayaking wears does that, it's the personal floatation device (PFD). Always wear your PFD whenever you're on the water.
Moreover, always dress according to the weather and water temperature. Avoid wearing clothes for cold weather during wet weather. Use protective clothing against the sun-hats, sunscreen and UPF-rated fabrics are great options. 
Sunglasses are also good for protecting your eyes against the sun. Layers are also useful in taking moisture away from your body.
During kayaking, what you do is sit for a very long time in the same position which can be uncomfortable if you're wearing restrictive clothing. Always wear smart, breathable, clothing. Avoid cotton, jeans and clothes with zips that can rust.
Synthetic clothes are a great option when going on a kayaking trip. Wetsuit booties, polypropylene paddling gloves, moisture-wicking sleeves and socks are good options. We recommend that you do not bring jeans and cotton along except as changing clothes. 
Metal hooks and buttons at the back of jeans can make sitting on the ground or on your plastic kayak uncomfortable. Cotton takes a long time to dry up, and offers no insulation, making your body lose heat rapidly when wet.
While kayaking, fabrics with insulating, and quick-drying properties are often the best options to wear. Depending on the weather, clothes made of synthetic polyester, nylon, polypropylene, and neoprene materials are the best choice.
But if you're keen on going natural, Merino wool is a better option than cotton. Here are some guides on what to wear for kayaking that we put together for you, and they will surely help you to have the most fun there is.
What To Wear Kayaking In Warm Weather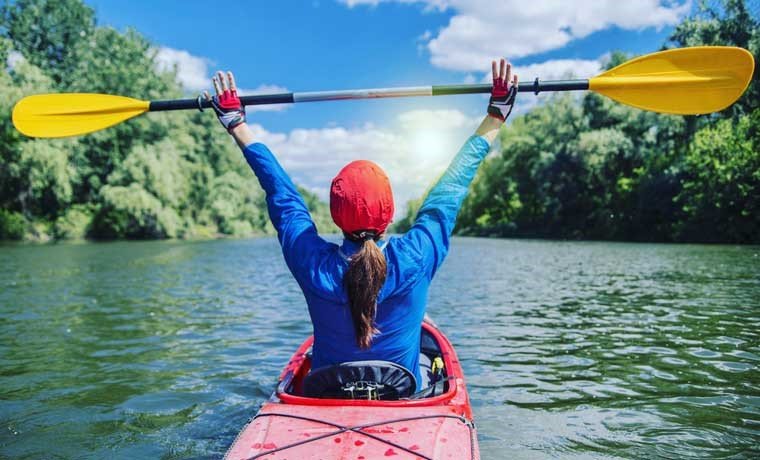 Shoes and socks: Water shoes are the best shoe option you can wear during summer. They're designed to help you walk on land and water, providing extra protection for your feet on slippery surfaces such as wet rock. You may or may not wear socks with your shoes but it is important your feet are protected.
UPF Top: When the sun is out and hot during your time on water, you have to protect yourself from the sun rays, while ensuring that you stay moderately cool. Rashguard is a good option to handle both for you. 
Made of a high cooling technology, fast drying fabric and UPF-rated sun protection. It makes you feel comfortable, and like a movie star, on the water.
On the bottom: There's no doubt, you will get wet while kayaking. And even if you don't get wet after long kayaking hours, you and your partners may want to try swimming in the water. 
Generally, during warm weather, you can sport shorts over your swimming bikini, if you're a woman. But if you're a man, a pair of convertible or quick-dry pants.
Personal Flotation Device: The American Kayaking Association in 2016 recorded that there were 509 paddling-related drowning cases. And 82 of these were reported to have had some kind of floatation device.
It goes beyond saying that it is a must that you take along a personal floatation device including everyone you're on the trip with-each with their own personal floatation device. A PFD puts your mind at rest throughout your adventure.
Sunglasses: Glaring at the water kissed by the sun can make the eyes feel uncomfortable, but having polarized sunglasses can help avoid this. You can as well get a strap for it doesn't fall off into the deep water while you're on top speed.
Hat: To further protect your face and scalp from the beating of the sun, you can also top your dressing with a Trucker hat, giving yourself a great look in the process.
What To Wear Kayaking In Cold Weather
Making a choice on what to wear while kayaking during cold weather can pose a little stress. The waters get uncomfortably cold during the fall months not to mention during winter. 
What then do you wear, you may ask, as you prepare for your next kayaking trip in cold weather? Don't worry, we have you covered. Below are a few tips on the clothing items you may put on during cold weather:
Splash Skirt: Also known as a spray skirt, a splash skirt helps keep water splash from reaching your kayak's cockpit, keeping you dry in the process. Technically, it is worn by your kayak and not you. But it is an important wear to consider for cold weather kayaking.
Shoes: With the presence of a spray skirt, your feet and under get a chance to stay warm and dry in wet weather. Notwithstanding, having appropriate footwear is important. You should go for shoes that stay firm on your legs and that have hydrophobic features.
Socks: To keep your legs warm in your shoes, you can go for socks that absorb moisture and keep your legs dry. An example is the Merino wool socks.
Drysuit: The drysuit is designed to be worn on several layers of clothing to help keep you dry as you paddle on in extremely cold weather. And it could stand as a lifesaver if you or anyone around you accidentally fall into cold water. Other wears you can get for your next kayaking adventure in cold weather include: insulating layers, jackets, gloves, etc.
What To Wear Kayaking In Summer - Summer Kayaking Clothing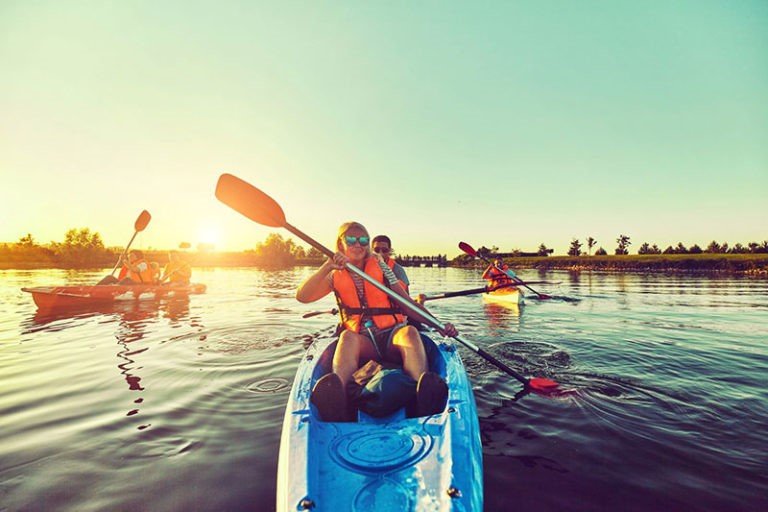 Kayaking in the summer requires that you get protected from head to toes as high UV rays can be harmful to the skin. We understand this, and that is why we've brought to you what to wear in the summer.
Adventure Sandals (or Booties): Many people who're new to kayaking often go barefoot or wear regular sandals to the shoreline during summer. This is a mistake. The discomfort of wearing regular sandals or placing your bare feet on the plastic of your kayak often outweighs the purpose, so any little investment in kayak booties or adventure sandals is worth it.
In addition, adventure sandals come with a large heel, designed to help provide cushioning to your feet as you place it on the plastic of your kayak. They can also be helpful when there's a need to walk on rocky surfaces.
The most common- among the several- adventure sandals on the market are perhaps Teva and Chaco while, Zero shoes and Luna Sandals are many people's favorites.
Hiking Pants with Zip Off Legs: Hiking pants with zip-off legs are a popular choice among kayakers because they offer a high level of versatility in summer kayaking. They help to keep you cool and dry up quickly in case you go for a short swim.
Moreover, you can choose to wear it as pants or as shorts, depending on how hot the weather is.
Long-Sleeve Polyester Fishing Shirt: While you run on water in the summer, your body receives direct rays from sunlight. It is important to cover your body up from burning by choosing a long-sleeve polyester shirt for your upper body. 
Polyesters breathe well and dry faster than their cotton counterparts. You can check for the SPF rating of the shirt you want to get. Getting a shirt with good SPF rating translates to reduction in your sunscreen use.
Personal Floatation Device (PFD): To be completely honest, the importance of the personal floatation device can't be stressed enough. Majority of recorded kayaking accidents resulted from lack of use of PFD by the victims.
Although all these could have been prevented had the victims worn a properly rated PFD. A properly rated PFD helps save lives. That can't be overemphasized, so ensure you get one on your next adventure.
Sunscreen: Before every kayaking in the summer, you should apply your sunscreen, even if you're covered from head to toes following our guide. It helps protect your ears, nose, hands, feet, and any other part of your body that gets exposed to sunlight
Bug Spray: Bug sprays made with non-DEET; natural solutions are often the best option. Although this is not necessary when going on a kayaking trip to a place where there are no bugs. But is there a place without bugs? Always anticipate bugs!
Additional Wearing Options: There are a host of other important attires to wear kayaking in the summer which include:
Polarized sunglasses- to protect your eyes from the light from the sun shining on the water surface.
Paddle Gloves- to protect your hands from UV rays.
Neck gaiter or Buff- for back-of-the-neck and ears protection from UV light.
A wide-Brimmed Hat- to protect your face and scalp from the UV rays.
What Shoe To Wear Kayaking
It is advisable that you wear shoes capable of staying fit on your feet. Water booties are a real deal. They help keep rocks out and keep your feet warm throughout. You can also consider wearing water sandals with good straps as long as having chilly feet in cool weather.
When going on a kayaking trip, having good shoes to wear is a smart decision to make. You may want to go for footwear that possess hydrophobic features, and those that will stay on your feet.
When you've changed into your kayaking clothes and you're ready to step into the vessel and sail away, you must consider your shoes. Always ensure that your footwear doesn't allow water into your boots and make your legs wet.
Footwear like flip-flops come off easily and are often slippery, and so are not advisable while kayaking.
What To Wear Kayaking In Spring
During springtime, the weather may be warm, yet the water may be cold. In this case, keeping cool and dry is important for you to do.
You can wear what you would wear on a normal kayaking day but you need to prepare for cases where your kayak trips into the water. Below are a few tips to save you the stress of choosing what to wear when kayaking in spring:
Protect yourself from the sun
The sun will be out during spring, so go with a sunscreen, an outdoor trucker hat or both to protect you face, scalp, and every of your body parts that will be in contact with it.
The presence of a spray skirt on your kayak helps you keep water out of your cockpit and ultimately, your legs, keeping you warm throughout your adventure.
Fabrics made with neoprene or fleece, with thin layers work well to keep you dry faster unlike cotton which is often heavy when wet.
You can do without socks when the weather is hot or warm, however, if you notice the water is cold during spring, protect your feet by wearing them. Moisture-absorbing ones are a good option.
If you live or kayak in a location where the water will stay cold till maybe June, you can get a dry suit to keep warm and dry while the cold lasts. If the drysuit is quite expensive for you, you can go for a paddling bottom set to help keep your bottom part dry instead.
What To Wear Kayaking In Florida
Florida is well known for its large expanse of water, with coastline beyond 1,000 miles and rivers over 1,700 miles to explore. The sunshine state waters are a way to enjoy kayaking. Here are a few points on what to wear:
Layers are a good garment option. They're to keep you warm and remove perspiration while allowing for free movement.
Paddling shoes, water booties stay firm on your feet, help keep you warm, and help you hold your grip on rocks. You should go for socks made of wool during my cold weather to help wick away the moisture that might fall into your boots.
Breathable, long-sleeve shirts protect against the sun. It is recommended that you go for them.
Wearing a beanie or a brimmed hat also helps protect your head, eyes, and neck from UV rays from the sun. You can choose a helmet if you're kayaking in an area with a lot of rock.
Polarized sunglasses can help keep your eyes protected from the sun and allow you to see what's ahead clearly.
Polypropylene paddling gloves can also protect your hands against abrasion, keeping you warm in the process.
Arguably the most important wear you need to take on your trip is the Personal Floatation Device. It saves life. It can help you remain afloat in case you're tripped over into the water.
In addition, avoid jeans, flip flops, and cotton.
What To Wear Sea Kayaking
Sea kayaking is a great way to get out of your comfort zone and have the best fun outdoors. However, as you go on your next sea kayaking, we recommend that you check out for the weather before stepping out of your house, and take a number of key items that can protect you on the water:
Hat to protect your face, ears, and neck from the sun.
Polarized sunglasses with a strap so it doesn't fall off.
An SPF-rated, lightweight and waterproof jacket.
Layers, water booties, and fast-drying shorts are also essential for comfortability.
You can also bring a sunscreen, water bottle, and lunchbox.
Most importantly, always bring and wear your life jacket on the sea.
What To Wear Kayaking La Jolla
Depending on what you're most comfortable with, always wear clothing that can get wet. Bathing suit or Lululemon tank plus shorts will work, as well as athletic leggings, if you like to get wet from your knees down. 
Wear UV-protected clothing under San Diego's all-year-round sunshine. At La Jolla, there's moderate wind, so you're not likely to fall into the water, and the presence of amazing staff members make you feel much more comfortable.
If you intend to go kayaking in cold weather, wearing a wetsuit is a perfect choice. Also go on with your sunscreen to shield your eyes from the reflection of the sun's rays by the water.
What To Wear Kayaking Alaska
Is your next big kayaking adventure in Alaska? Or are you an Alaskan going for your first water cruise on an Alaskan water? Whichever category you fall into, you need to be well prepared for the weather as well as the water.
Oftentimes, the Alaskan weather changes from earlier expected. As you step into the water the weather may be cool and with time grow hotter. Dressing in layers helps keep you cool and comfortable when this occurs. You may have envisioned Alaska as a cold place, making you not think about protection from the sun.
However, this may not be so throughout the year, so if you're going on the water for a long period, always protect yourself from the sun by getting a UV-rated hat for your head, sunglasses for your eyes, and sunscreen and clothings for your body.
Moreover, you can consider wearing a headwear. Ones made with Merino wool are a good option but you need to use them with a neoprene waterproof cover preferably. In addition, always keep all cotton clothings at home. They don't dry quickly when wet therefore can cause hypothermia.
Kayaking is fun and is loved by many across the globe including you reading this article, perhaps. But it is even more fun running miles on the Alaskan waters with amazing fjords and mountains. If you're planning to get a taste of this experience, you'll need to plan for the weather: dress smart. Here are a few ways to dress smart and comfortable on Alaskan waters:
Go for drysuits or wetsuits depending on the weather. If buying these is too expensive, and hefty to transport over a long distance for you, you can go for rentals.
Ensure you dress for the water. Wear layers. Synthetic layers, like capilene, keep you warm when you accidentally fall inside the water. And you can remove them when you start to feel hot.
Wear water-resistant shoes. Neoprene booties are remarkable. They're light, and water-repellent. They also insulate perfectly, keeping your feet safe all through your kayaking trip.
Wear sun protective devices. Never forget how damaging sun rays can be to the skin. Wear a sun-hat for your head protection, sunglasses for your eyes protection, sunscreens for your skin protection, and UV-rated clothings. Drop anything cotton clothing.
Lastly, and most importantly, never step into the water without your personal floatation device (PFD)!
An experience of kayaking on the Alaskan waters keeps you wanting more. It's revitalizing. You can come with your camera too, to capture all exciting moments.
What To Wear Ocean Kayaking
When going on an ocean kayaking, you'll need a few clothings and protection on the water. Below are a few things to wear:
Lightweight, waterproof shorts that are breathable, quick-drying, and comfortable.
Waterproof jacket
Neoprene shoes
Neoprene hand gloves
Neck gaiters or buff
Sun hat or warm wool hat
What To Wear On A Kayaking Date
Kayaking can be a perfect way to share memorable romantic moments with your partners. While on your kayaking date, it is recommended that you wear a cloth that can handle wetness, that is, gets dry fast. Avoid denims; they take long to dry.
If you're a lady, you can rock a cute sports shorts pair and a bright-colored sports bra with a light crop-top on it. You can take a ponytail holder along if you have long hair at the time.
And if you're a man, a pair of short pants, a light t-shirt, a hat, a sunscreen and two PFDs for you and your date. You do not have to go for fashionable sandals as they come with many inconveniences. Adventure sandals are better options.
What To Wear Whitewater Kayaking
No matter how long you plan to stay after your adventure, it is advisable to take all necessary accessories plus extra clothes that you can change into.
The necessary things you need to bring include: protective shoes or sandals, clothes that align with the weather, sunscreen, hat, sunglasses, and a PFD.
What To Wear Kayaking In Winter - Winter Kayak Clothes
The weather is cold during this time of the year. Making sure you keep warm by preventing water from entering into your kayak should be your goal while kayaking in the winter. A spray skirt is one important wear you need for your kayak to keep water away.
Your kayak can tip you over into the cold water. You need to keep yourself safe by avoiding freezing, and you'd need a dry suit to achieve that. 
Although dry suits can be expensive, they're worth every penny in the long run. And if they're too expensive for you, you can go for the paddling suits to protect your neck and wrists. 
Also, don't forget your wet shoes. Don't kayak in cold weather with barefoot. Sandals or shoes made with neoprene are a good option for warmth and dryness in cold weather.
Moreover, don't forget your head. Yes you heard that right. Your head is as important as every other part of your body, so always have it protected in the winter with a head cover. In addition, hand gloves go a long way to also keep your hands warm while you paddle in the cold.
Layers, layers, layers. They are a great way to be ahead of the weather forecast during winter.
Your hands are probably the most exposed part of your body to the weather as you paddle on. It is important that they stay warm and dry in winter to keep the cold out. Neoprene hand gloves are relatively a top choice among many kayakers.
Wearing a high-quality, waterproof cag that reaches to the neck and hands can also help you keep water away from getting into your body. Spray decks are also a good addition. They help to keep your kayak free from water.
Wear a woolly hat or head cover on your head every time you're stepping into the water. They save you from getting freezed up by the cold and make you comfortable from head to neck.
In winter, the best you can do for your feet is to keep water out of it by all means. One way to do this is to wear wet boots. They keep your feet from getting wet and cold. If you intend to stay on the water for a long time during winter, you should get a drysuit along. 
They help keep your whole body dry and warm in the event that you tip over into the water. They're suitable for both  kayakers, canoers, and stand up paddle boarders alike. The wet boots and drysuits can be expensive but they're sound investments.
A warm coat can also be considered for use after stepping out of the water. They're spacious and keep you warm after your experience. And when you're done with your wet kayaking clothings, and warm coat, you'll need to change to dry clothes afterwards, as it'd be inappropriate to drive home soaked. Always take spare dry clothes whenever you go kayaking in winter.
The most important thing to wear is your personal floatation device (PFD), or buoyancy aid, or lifejacket in case of accidental capsize. It helps to ensure you do not drown in cold water. It can also serve a small storage for your phone and snacks to keep up your calorie level that has the tendency of being burnt faster in winter.